New Word for Old Problem in New Media
The call went out over Twitter:
Who among us has not planted our face in our palm when a tone-deaf company or organization has responded to earnest pleadings or genuine ire with mealy-mouth platitudes? Companies fall on their faces all the time in how they respond to criticisms and customer flaming, Just ask the Detroit Symphony Orchestra management team member who made a disparaging remark about members of the advocacy group Save Our Symphony.
The Detroit remark was someone snapping under pressure and saying something best left unexpressed in a permanent and easily duplicated/amplified medium. That's bad, but at least it demonstrates that someone human is behind what's going on, and when we see each other's humanity, we can always find a way to work back from the brink.
What I find particularly insulting are the responses that don't reveal any humanity whatsoever. The "thanks for your concern" platitudes. Those responses never fool anyone into thinking the company actually aprpeciates the input. I'd say you've fallen flat on your face—splat!—when you are responding that way.
I was moved to suggest, therefore: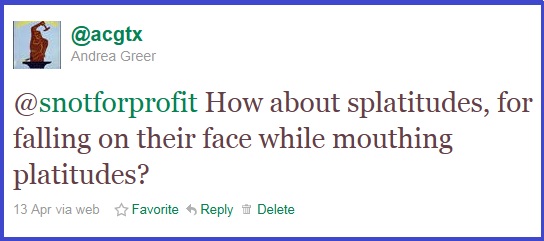 So, here's to hoping none of us have too many splatitudes in our future!